The 22nd FIFA World Cup will open in Qatar on November 20, 2022. This is the first time in history that the World Cup will be held in Qatar and a Middle Eastern country, which is of great significance in the history of world sports development.
In this Qatar World Cup, Chinese elements are active in all aspects of the event. From venues, referees, peripheral products, sponsors to the "cutest messenger" Panda, as Chinese Ambassador to Qatar Zhou Jian said, "China's contribution" illuminates the World Cup like a sky full of stars.
Huabao Stone is the supplier of granite paving stones for the Qatar World Cup Stadium Project. The Qatar World Cup stadium construction project has purchased Huabao materials for many times in a row, mainly for the Education City stadium, Al Thumama stadium, Central Doha and Corniche upgrade and renovation, Lusail New Town, Katafan Islands, Vendome Square and other projects construction.
Education City Stadium | Program Introduction
Huabao products: light gray/black/beige granite paving stone Product area: 10000 ㎡ Space capacity: 40,000 seats Completion: 2020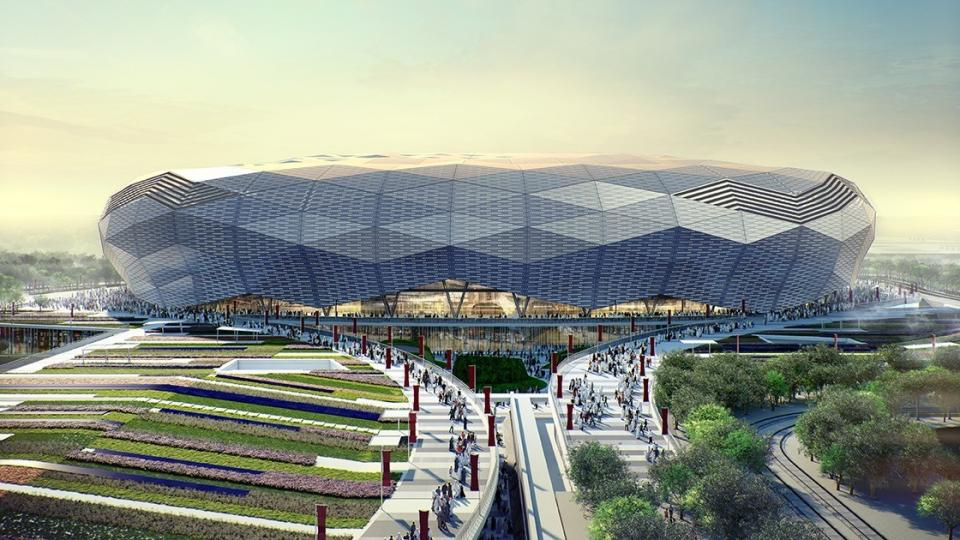 Education City Stadium |Case introduction
The facade of the Education City Stadium is designed as a complex diamond-shaped geometric pattern. The ground design uses the light gray/black/beige granite paving stones from Huabao Stone as a match. The light gray spreads in a large area, which is simple and elegant, with a high-grade texture. It sets off the Education City Stadium like a shining diamond in the desert.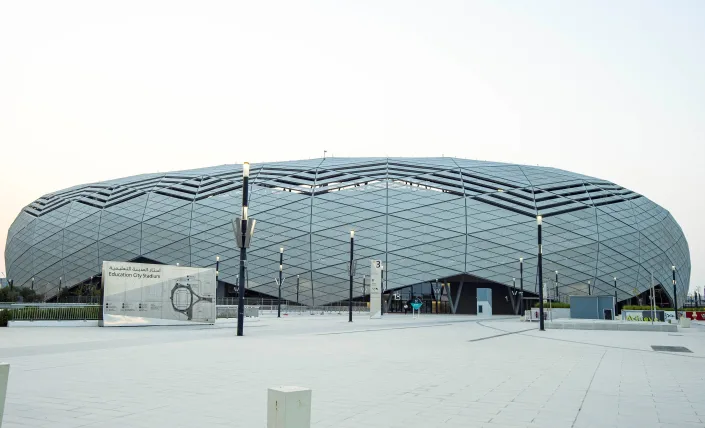 Competitions on and off the field are at stake, and pedestrians outside the field come and go. During the day, the facade of the Education City Stadium will reflect different colors as the sunlight changes, shining like diamonds. At night, the lighting devices on the ground and the facade will light up, changing the lighting effect of various colors for the venue, providing an excellent architectural experience for people inside and outside the venue.
With 20% of construction materials certified as green, Education City Stadium is one of the most environmentally sustainable stadiums in the world. In May 2019, Education City Stadium received a five-star GSAS grade for its excellent construction materials and outstanding design.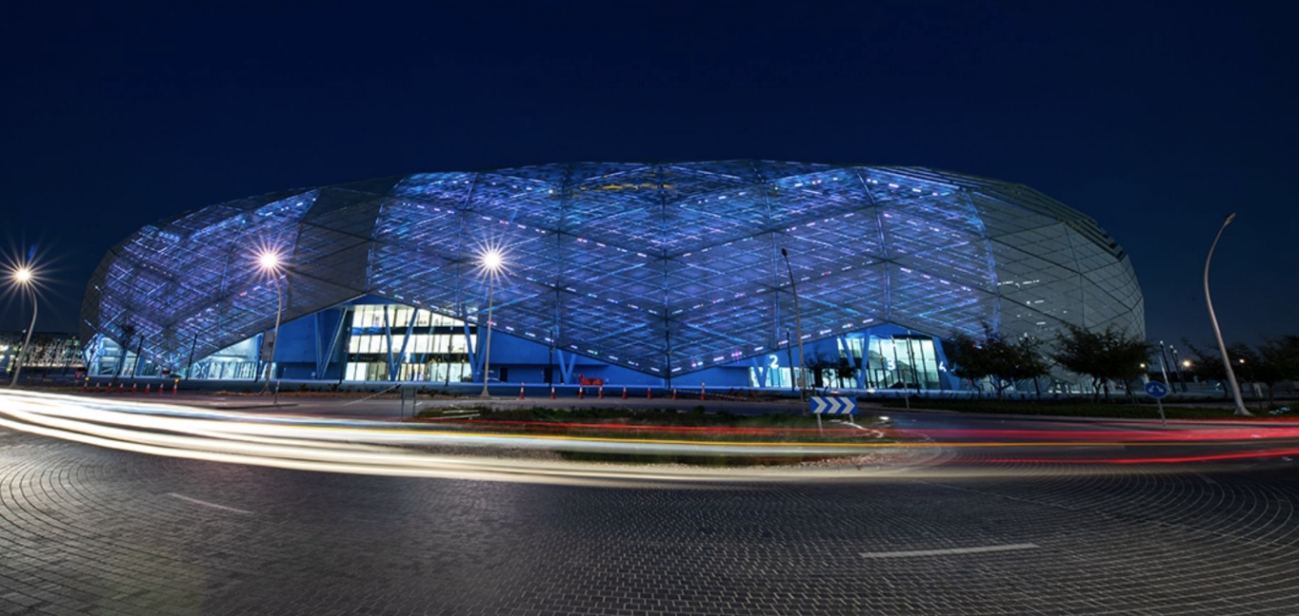 AI Thumama Stadium | Program Introduction
Huabao products: light gray granite paving stones Product area: 10000 ㎡ Space capacity: 40,000 seats Completion time: 2021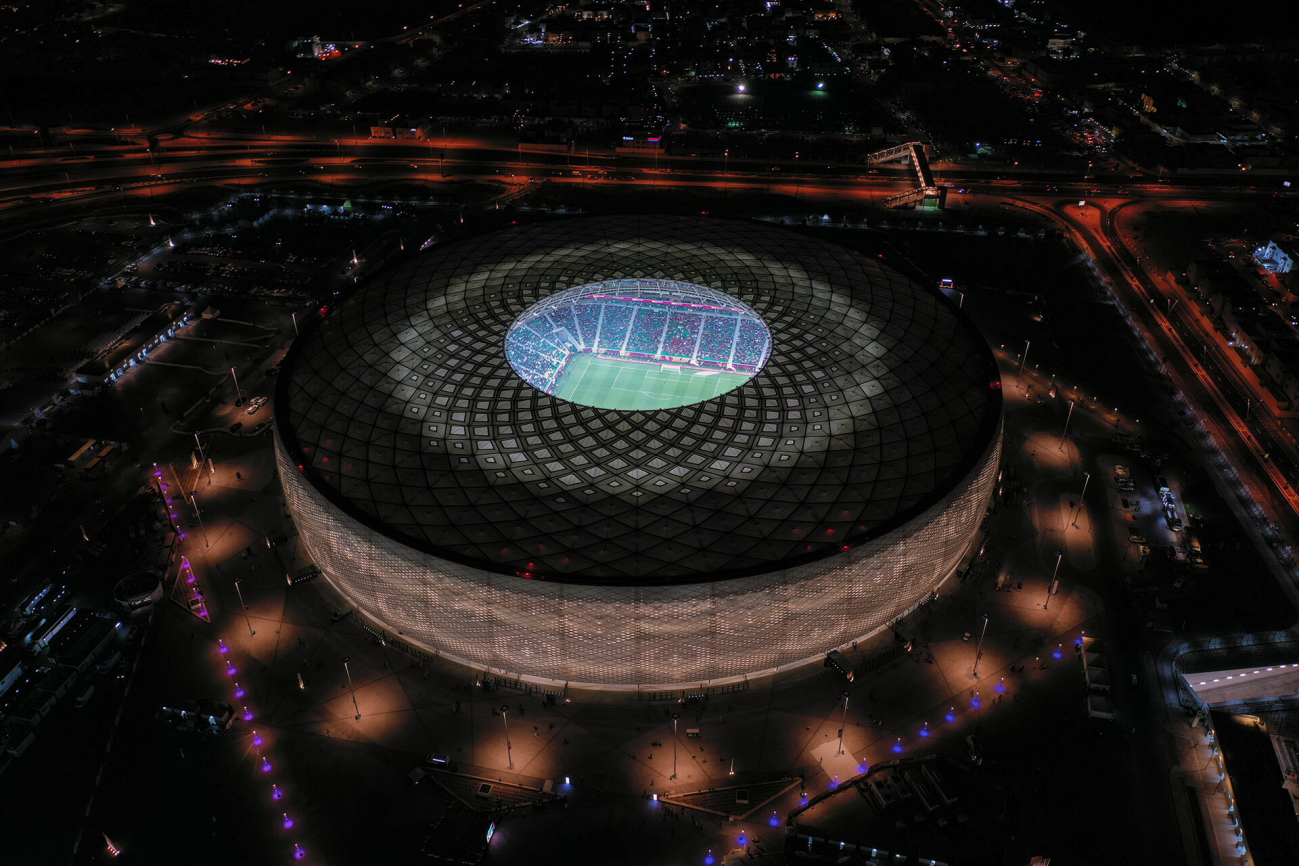 AI Thumama Stadium |Case introduction
The design concept of Al Thumama Stadium comes from the traditional woven hat worn by Arab men. Circular in plan, the facade consists of perforated white panels that mimic the weaving pattern of rhomboids.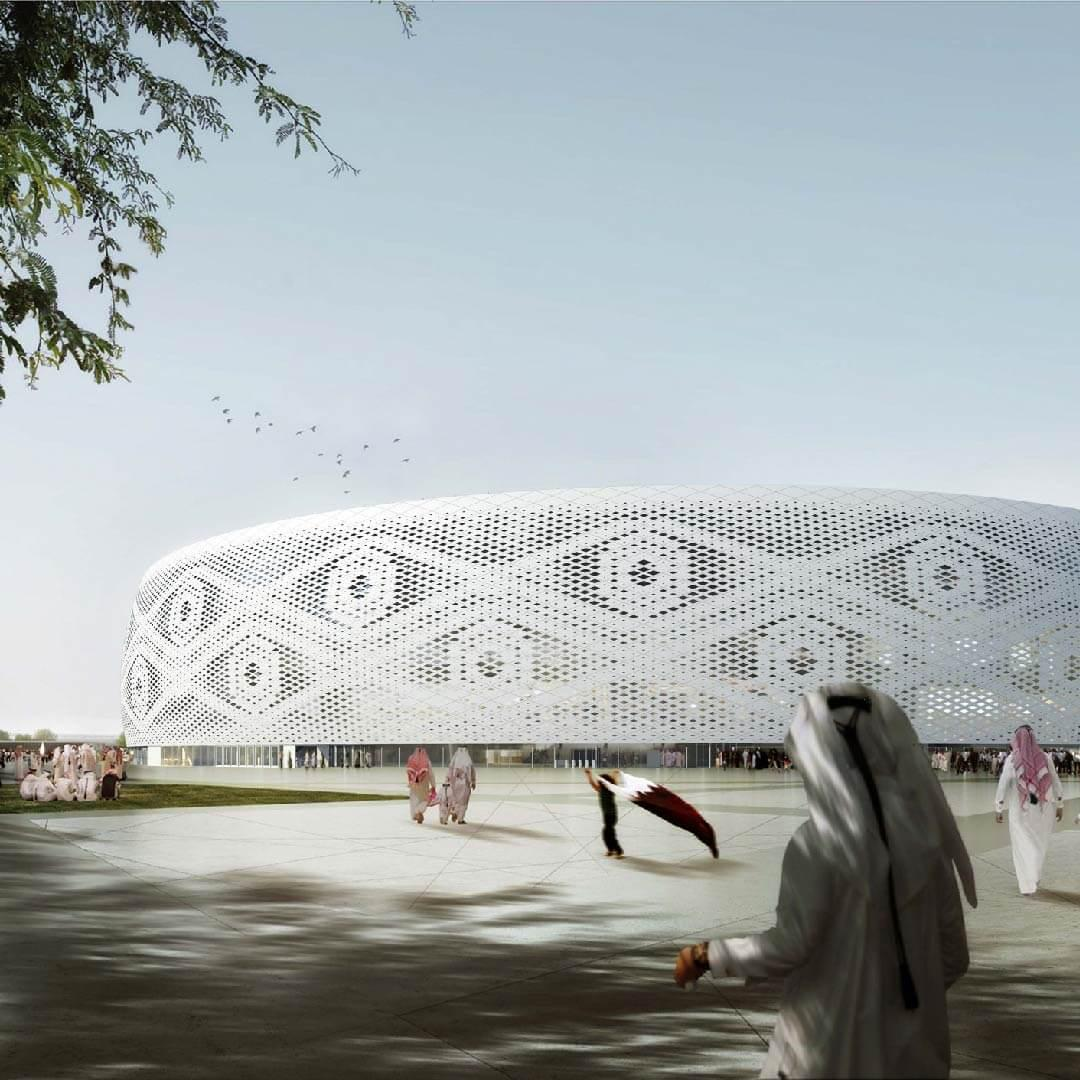 During the World Cup, Al Thumama Stadium can accommodate 40,000 spectators at the same time. The 10,000 ㎡ Huabao light gray granite floor is paved with stones, paving a sports event venue to welcome the world.
Just like the never-ending sportsmanship, Huabao also treats every square meter of land with heart, improving the quality of artificial stone, whether it is indoors or outdoors, it can stand the tempering and test of time, and witness cheers and sweat of every race in the 2022 Qatar World Cup.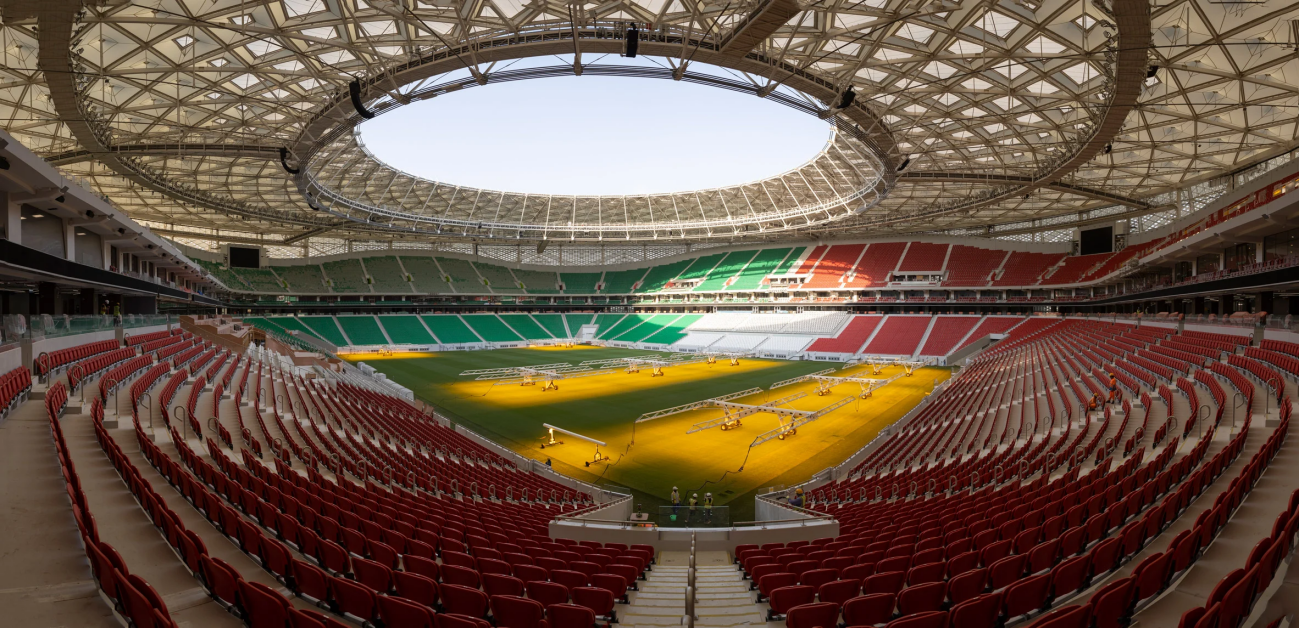 CENTRAL DOHA AND CORNICHE BEAUTIFICATION | Program Introduction
Huabao products: granite curbstone / textured light gray granite Product area: 80000 ㎡ Completion time: 2022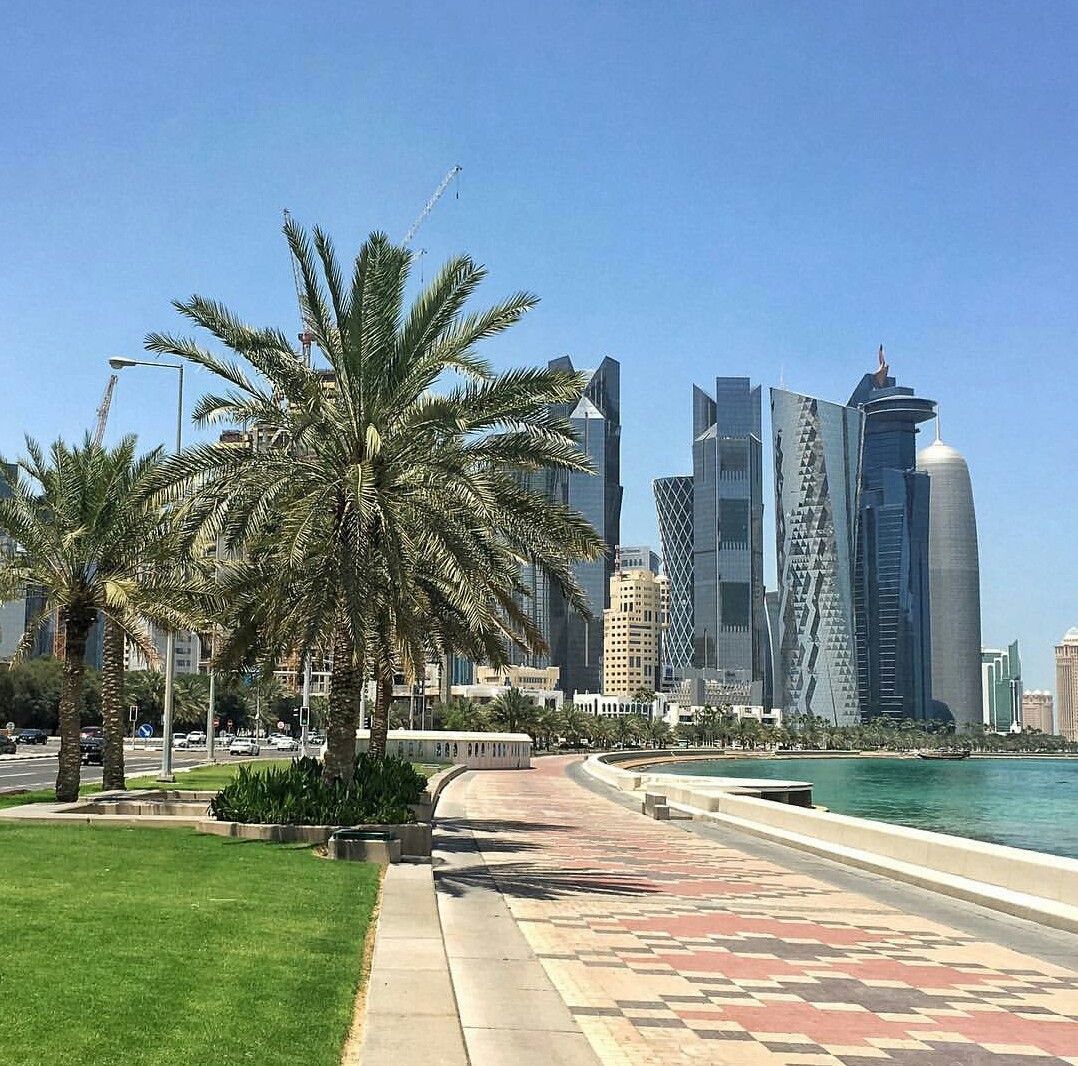 CENTRAL DOHA AND CORNICHE BEAUTIFICATION | Case introduction
The scope of the Central Doha beautification and development projects include the Al Corniche, A-Ring Road and C-Ring Road areas. Infrastructure development includes building plazas, sidewalks and cycle paths, installing a network of street lights, new traffic signals, road markings and crosswalks. The improvement of these projects is for the visitors during the World Cup, with a better sense of urban experience.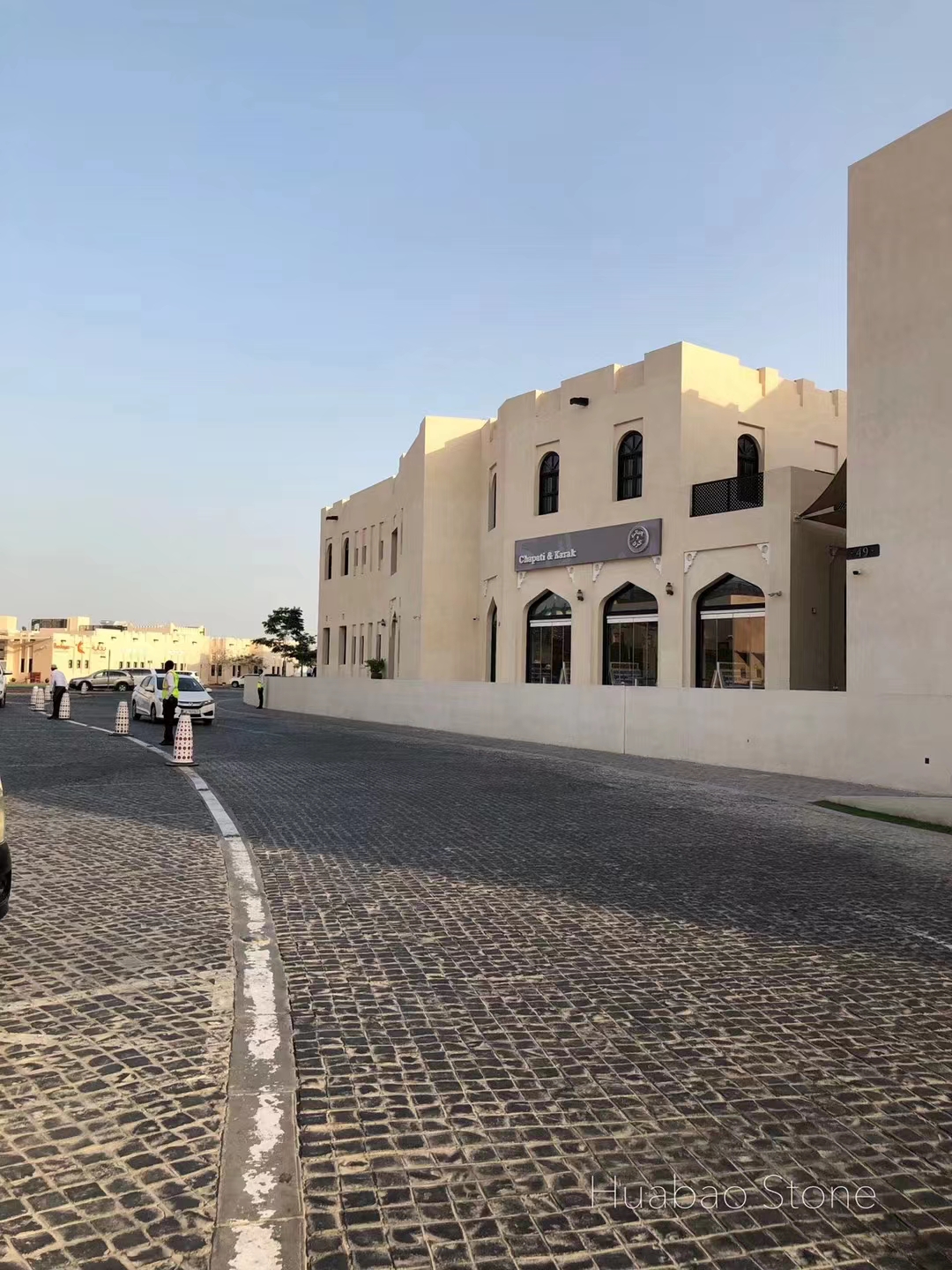 Huabao, as the stone supplier of this project, assisted the smooth development of Doha City Center - Al Corniche infrastructure project. The stone products provided by Huabao Stone, which are used in the city center and corniche , include curbstones, cubes, step stones, floor paving stones, fountain water features, etc.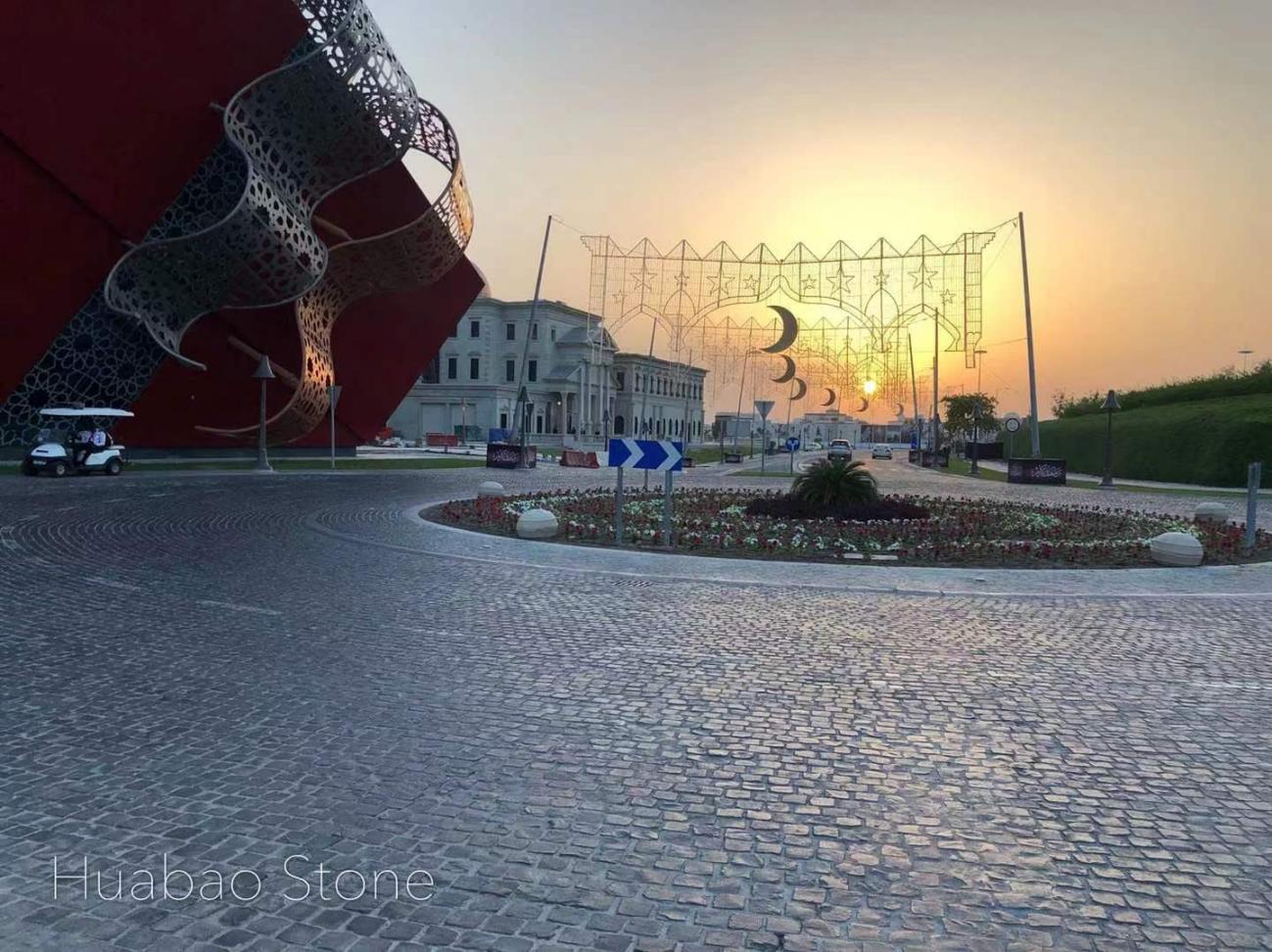 Whether it is in the Middle East, Southeast Asia, Australia, or Europe and America, the product quality of Huabao Stone has been certified by many international professional organizations, so that every time the company cooperation can be at ease.
Three Public Parks at Al Gharrafa , Umm Al Seneem & Al Muntazah | Program Introduction
Huabao products: grey/beige/black granite paving stones Product area: 20000 ㎡ Completion time: 2022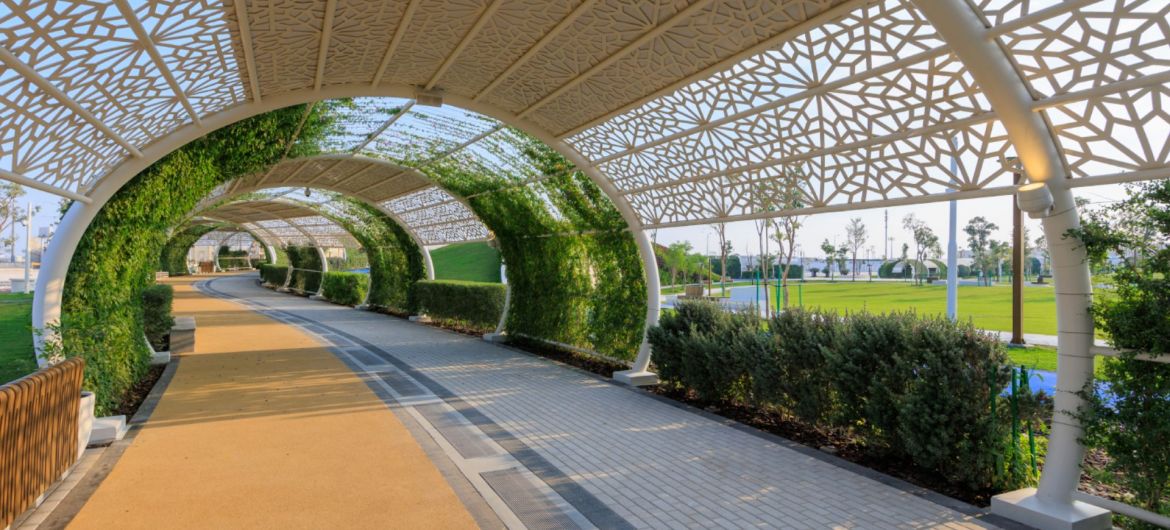 Three Public Parks at Al Gharrafa , Umm Al Seneem & Al Muntazah | Case introduction
The relationship between people and architecture is always inseparable. In addition to witnessing intense sports events, the people of Qatar and tourists from all over the world also choose to walk in the parks in Doha. Due to the excellent performance and artistry of its products, Huabao Stone has undertaken the construction projects of Al Gharrafa, Umm Al Seneem & Al Muntazah Parks, providing the leisure space in Doha with art and quality made in China.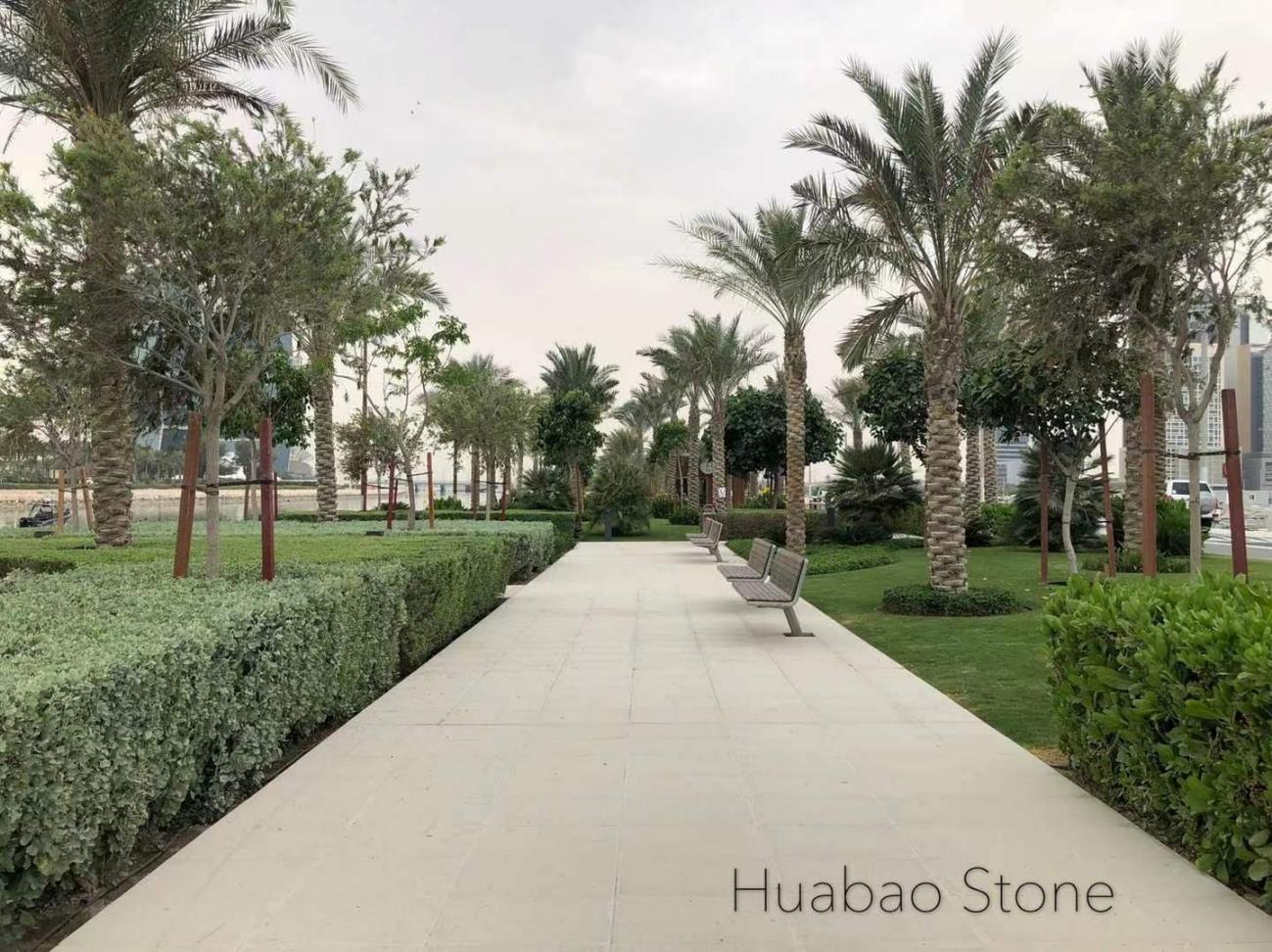 On the basis of inheriting excellent traditional craftsmanship, Huabao integrates the concept of contemporary art creation into it, replaces complicated elements with extreme techniques, continuously optimizes product details, and strives for steady progress in product quality. The progress of Huabao will bring a steady stream of excellent products to the global construction market and provide first-class product experience for people all over the world.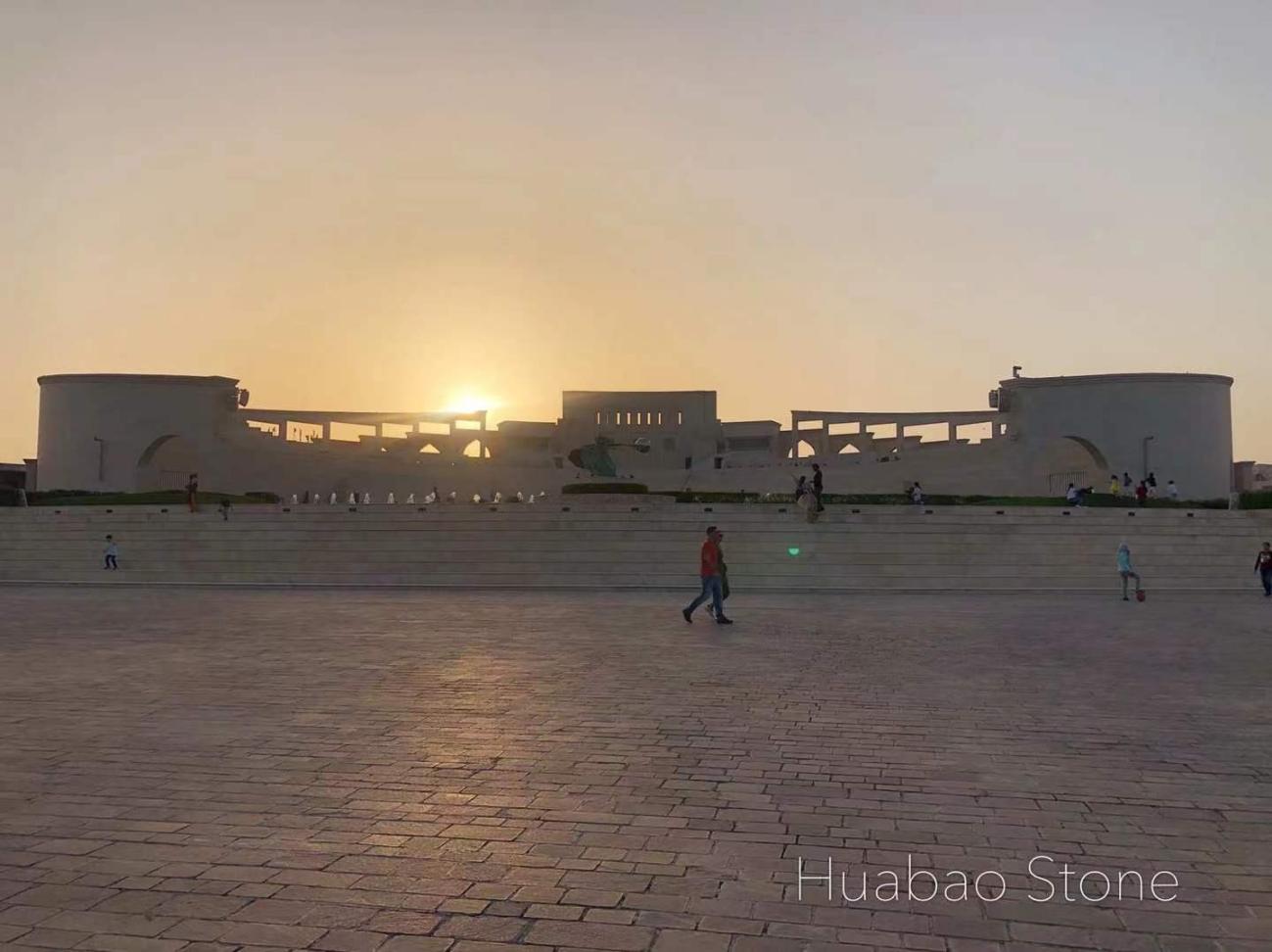 Lusail Plaza Tower | Program Introduction
Huabao products: granite paving stones/curbstones/stone chairs/shaped steps/flower beds, etc. Product area: 30000+ ㎡ Completion Time: 2023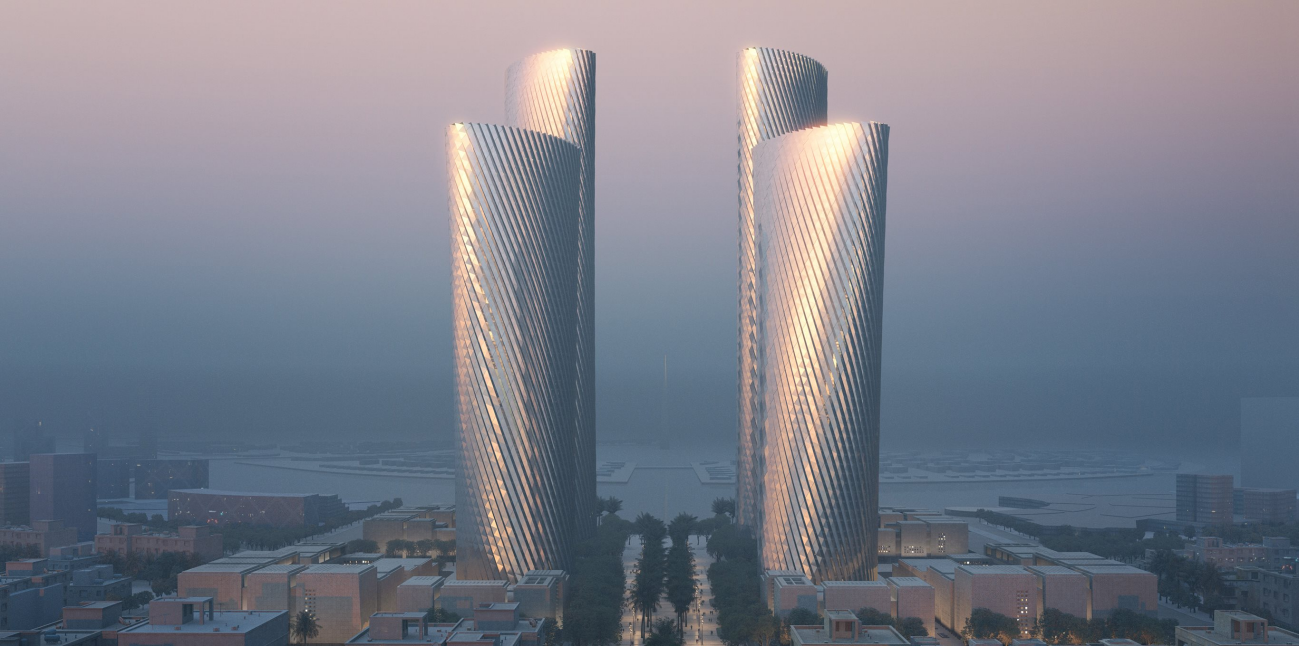 Lusail Plaza Tower | Case introduction
Lusail Towers is under construction.
This key development project, which is considered by the local government as the driving force for the new central business district of Lusail City, will be completed in 2023. And in the coming years, it will be the headquarters of Qatar National Bank, Qatar Central Bank and Qatar Investment Authority, as well as several other global organizations including Qatar Diyal.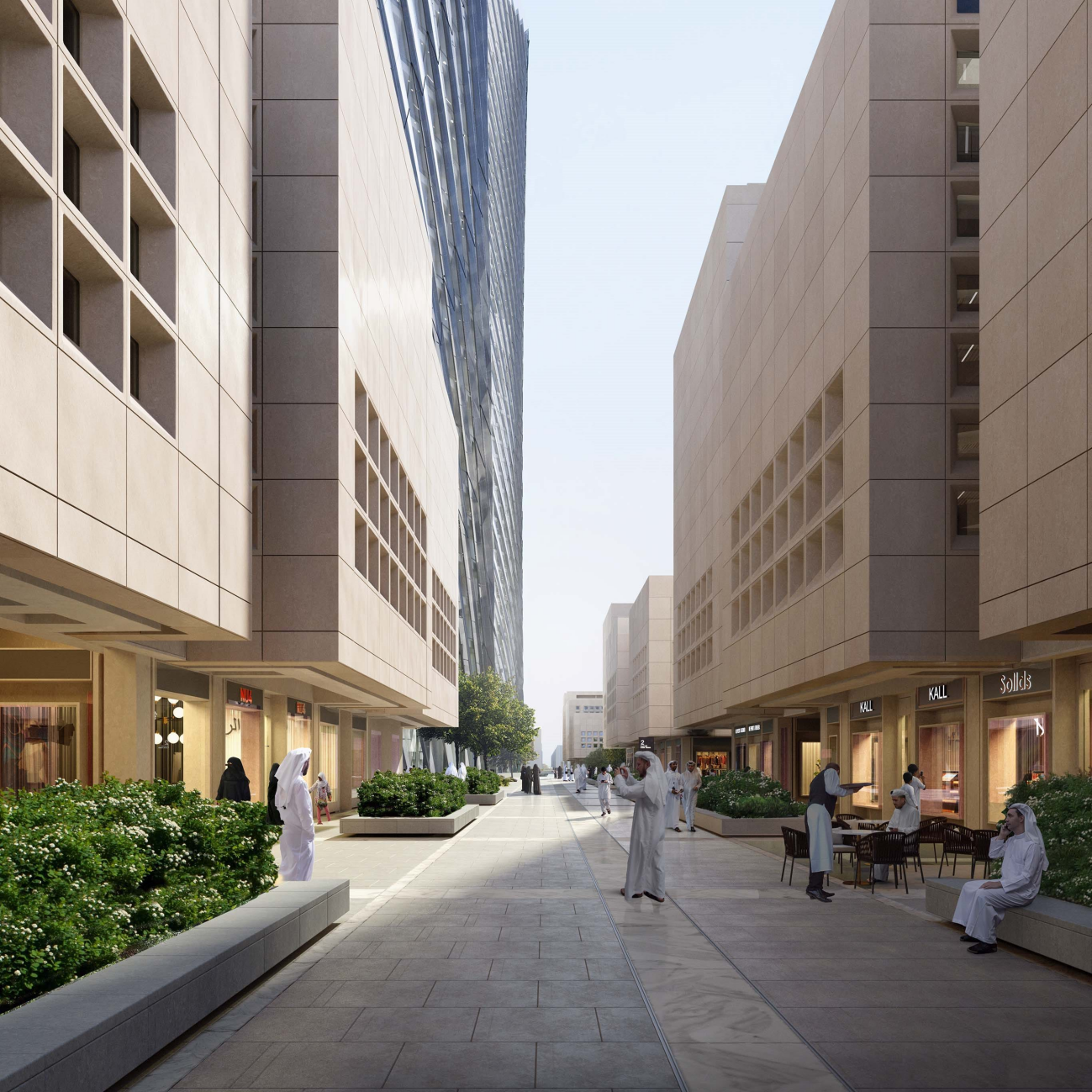 Lusail Towers is located at the end of the commercial avenue of Corniche, with two high towers at 70 stories and other two towers at 50 stories, four buildings arranged symmetrically around a central plaza.
The new architectural space has been generated, but how to integrate with the existing public space in Lusail? The contractor chooses a variety of high-quality stone materials from Huabao, carefully arranges humanized streets, pedestrian-friendly ground, seats and flower beds where you can rest at any time, and connects with the public space, bringing leisure and vitality into this building.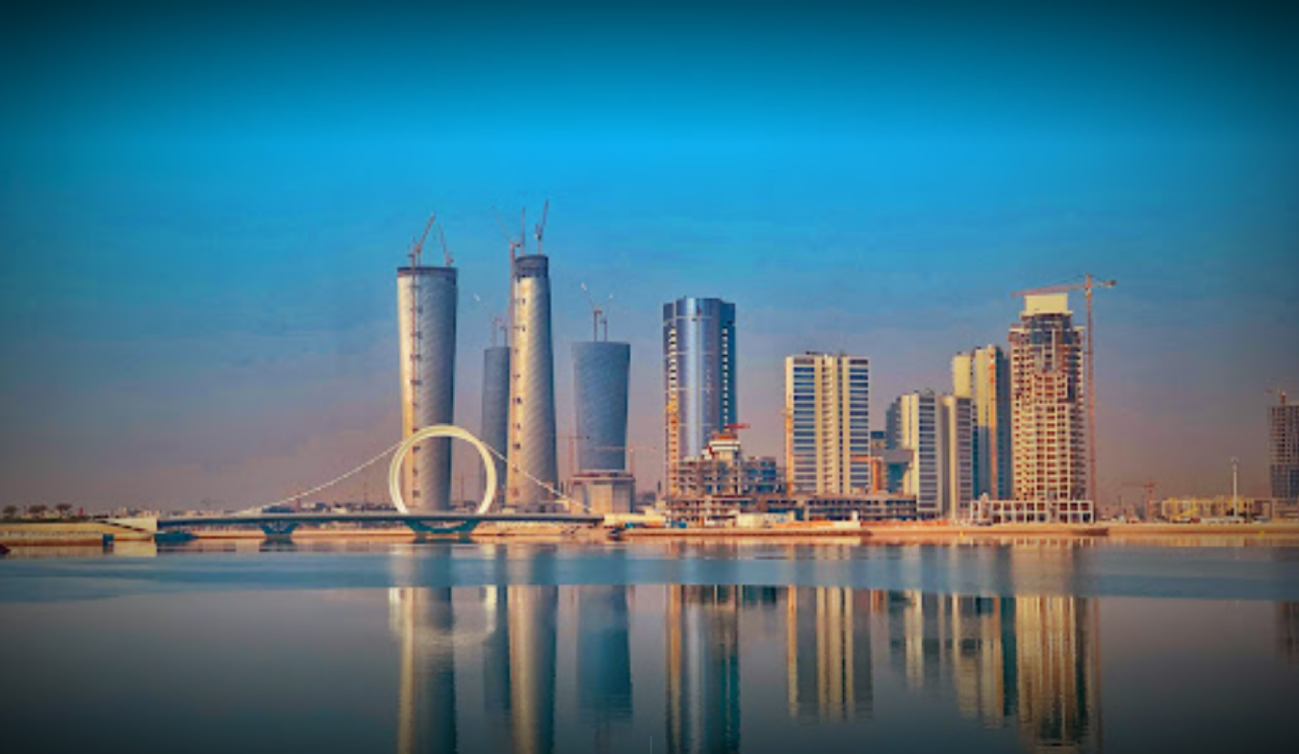 Huabao has a complete industrial structure, from product design to raw material processing, from manufacturing to logistics and transportation to one-stop after-sales service, and then to domestic marketing for continuous and efficient output, and to maintain product innovation and change.
Since its establishment, Huabao Stone has carried out long-term and stable cooperation with merchants from many countries in the world, and has become a qualified supplier of 6 of the world's top 500 large-scale building materials supermarkets. It has customers in 60+ countries and regions around the world and has accumulated 30+ years of foreign trade experience.
Huabao Stone has accumulated nearly 40 years of practical experience in cooperation with government agencies, scientific and educational organizations, commercial brands and other large-scale projects in various industries. With experienced engineers and technicians, professional stone selection and installation services, a variety of diversified to meet the space requirements and provide customers with professional solutions.